An 80-year-old Ipswich priest is due to retire this Sunday (September 1) after an impressive 56 years in ministry. Stephen Donaghy reports.
---
Fr Francis Leeder, often known as Sam, was ordained on June 9, 1963 at St Joseph's, Luton and went to Ipswich as his first priestly appointment. He has been parish priest at St Pancras in the town centre for nearly 40 years over two separate periods. He says he has lost count of the number of couples he has married and babies he baptised in that time.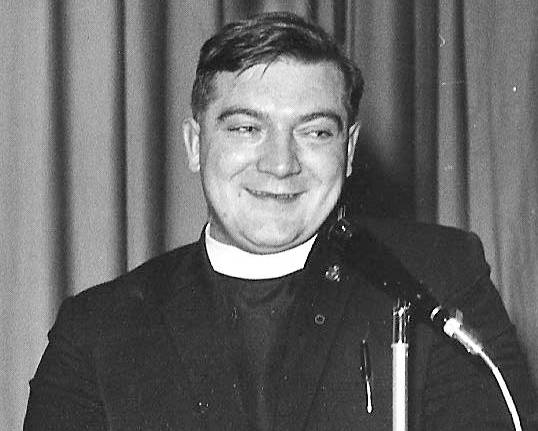 Fr Francis said: "I have had a great life. People have been so kind to me. I shall leave St Pancras with many happy memories and warm feelings as a result of the welcome and support that I have enjoyed from the parishioners. My successor is coming to a lovely parish."
He says he witnessed "many miracles of healing" as a hospital chaplain but also had to cope with the deaths of three children in a house fire, which meant he "never had any time for anyone who played with matches".  Fr Francis also had to deal with an arsonist setting the church on fire on Christmas Day in 1985.
He came to St Pancras as a curate, his first permanent appointment, before moving to St John's, Norwich, now the Catholic cathedral, from 1970-73 and then Woodbridge before returning to St Pancras in 1981.
As a mountain man, one of Fr Francis' jobs was to clean the very high Cathedral gutters so that water did not come pouring into St John's during a storm. It was a job he was asked to repeat several times many years later, working in the foot-wide gutters in wellies and with a shovel for the pigeon mess.
For many years Fr Francis was an active member of the local Scout movement and restarted the 12th Ipswich troop at St Pancras in the 1960s
"We did proper scouting with wood fires, tents, oil lamps. We dug lats halfway up a Welsh hill and did winter walking, ascending Ben Nevis in snow," he said.
Fr Francis also used to sail, and act as a caller for two barn dance bands in his leisure time.
In 2011, he helped St Pancras celebrate its 150th anniversary and he holds the title of the parish's longest-serving priest.
Fr Francis will be retiring to Melton after Fr Russell Frost succeeds him as parish priest on Sunday September 1.
A retirement mass for Fr Francis, attended by local clergy and the deputy mayor took place at St Pancras on Thursday August 29, followed by a cheese and wine reception in the parish hall.
Pictured top is Fr Francis Leeder in March marking his 80th birthday and, above in Ipswich in 1966.